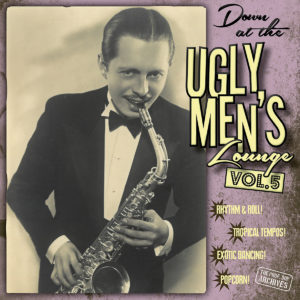 AUS DEM PROFESSOR BOP-ARCHIV:
---
Cotton Pickin' Chicken Pluckin' Shame – BEN SHARON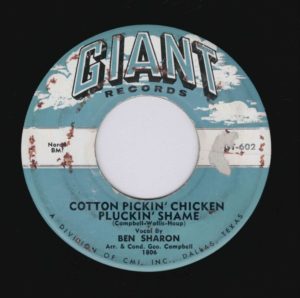 Wer war Ben Sharon? Nun, nach aktuellem Forschungsstand war er ein Sänger, der zwischen 1955 und 1961 drei Singles herausgebracht und ansonsten wenig Getöse im Musikgeschäft angerichtet hat.
Aus seinem eigentlich eher romantisch ausgerichteten Repertoire ragt "Cotton Pickin' Chicken Pluckin' Shame", erschienen 1958 auf dem für seinen riesenhaften Namen eher kleinen texanischen Label "Giant", als Rock & Roll-Nummer von Rang heraus. Der Arrangeur und Kapellmeister dieser Aufnahme, George Campbell, ist sicher nicht identisch mit all' den Schauspielen, Sportlern, Wissenschaftlern und Schriftstellern gleichen Namens. Die Frage, ob er der George Campbell ist, der Anfang der 60er Jahre als Komponist einiger großer Country-Pop-Hits verantwortlich zeichnete, harrt noch der Klärung.
---
Plantation Boogie – GEORGIE AULD & His Auld-Stars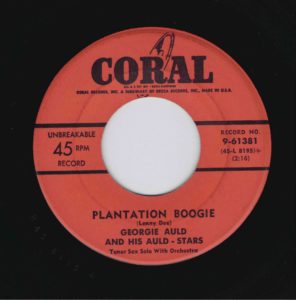 Georgie Auld (1919 – 1990), geboren in Kanada als George Altwerger, gehörte schon in jungen Jahren zu den Granden des Jazz und wirkte als Sideman in namhaften Ensembles mit. So spielte er u.a. Tenorsaxophon für Benny Goodman, Artie Shaw, Dizzy Gillespie und Billy Eckstine.
Als Gelegenheits-Schauspieler brachte er es bis auf die Bühnen des Broadway und in die Filmstudios von Hollywood. 1977 war es Auld, der in dem Film "New York New York" nicht nur einen Bandleader spielte – es war auch sein Tenorsax, das man hörte, wann immer Robert de Niro das Instrument an seine Lippen setzte.
Die Welt des Rock & Roll barg für Georgie Auld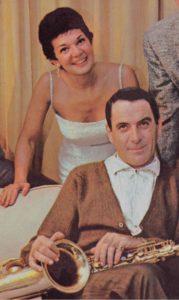 keine großen Geheimnisse.
Seine Version des "Plantation Boogie" (das Original stammte vom Hammond-Orgel-Star Lenny Dee, Gesangsfassungen gab es u.a. von den Gaylords und Red Foley) gehört fraglos zu den besten Versionen dieses fast vergessenen großen frühen Rock & Roll-Klassikers.
---
Don't Do – JOHNNY HAMLIN Quintet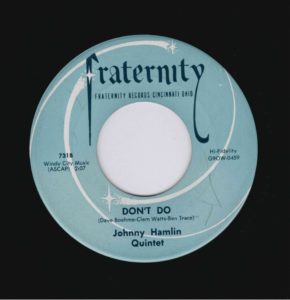 Sein Hauptinstrument war das Akkordeon, aber auch als Pianist spielte er weit vorne mit: Johnny Hamlin aus San Diego. Fünf Lps erschienen zwischen 1956 und 1963, teilweise in Zusammenarbeit mit der Sängerin Marci Miller oder den legendären Modernaires (unter dem durchsichtigen Pseudonym "Hal Dickinson Singers"). Sie zeugen von seiner Meisterschaft auf beiden Instrumenten und von seinen Fähigkeiten als Arrangeur für sein Quintett, das ihm bei all' seinen Aufnahmen zur Seite stand.
Ihren Start hatte die Combo ca. 1952 in Hamlins Heimatstadt und tingelte sich bald von einem obskurem Gig zum anderen, u.a. auf Bowling-Bahnen und als Tanzmusikgruppe in den Zirkus-Restaurants der Ringling Brothers. Wohl schon zu jener Zeit entstand "Don't Do" als noch etwas hemdsärmeliges Demo der Gruppe.
1955 schafften die Fünf um Johnny Hamlin den Sprung in die besseren Jazz Clubs des Landes und spielten u.a. in der "Pla-Bowl Lounge" in Calumet City, Illinois und im "Blue Note" in Chicago, wo sie von Lionel Hampton entdeckt und weiterempfohlen wurden.
1956 erschien das erste Album der Gruppe auf dem winzigen Replica-Label.
Neben Johnny Hamlin an Akkordeon und Klavier waren Ken Earnest (Bass und Tuba), Bob Barnes (Saxophon), Art Mooshagian (Trompete und Ventilposaune) und Bob McKee (Drums) mit von der Partie. Der beträchtliche Erfolg des Hamlin Quintetts veranlasste das Detroiter Label Fraternity im selben Jahr, das alte Demo der Gruppe aus dem Keller zu holen und als Single zu veröffentlichen. Und siehe da: Die frühe Musik der Johnny-Hamlin-Gruppe entpuppt sich als flotter Jive im Stile der frühen Combos aus Philadelphia wie Freddie Bell & The Bell Boys oder Jimmy Cavallo's Houserockers.
Wer aus der obengenannten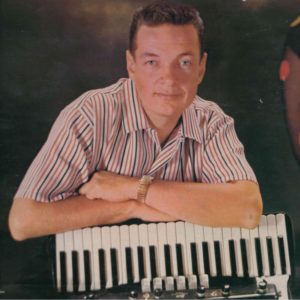 Besetzung tatsächlich bei "Don't Do" mitspielt, kann man nur mutmaßen. Dass der Bandleader selbst singt, darf angenommen werden. Somit sind "Don't Do" und die Rückseite "Miss Fanny Brown" (ein heißer Bewerber für eine später UGLY-MEN'S-LOUNGE-Ausgabe) die einzigen Aufnahmen des Johnny Hamlin Quintet mit Gesang aus den eigenen Reihen überhaupt.
Nach dem letzten Album der Gruppe 1963 verliert sich die Spur dieser ganz besonderen Jazzband im Dämmerlicht der Musikgeschichte….
---
Chinese Lullaby – EDDIE PLATT & His Orchestra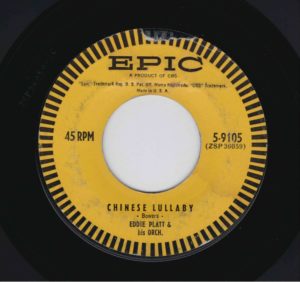 Um es vorweg zu nehmen: Das "Orchestra" des Eddie Platt war kein Orchester nach unseren Vorstellungen, sondern lediglich eine Fünfmann-Band mit Akkordeon, Gitarre, Bass, Schlagzeug und einem Tenorsaxophon – vom Chef selbst gespielt.
Der Anteil von Akkordeon-Einsätzen im frühen Rock & Roll erreicht, wenn man genau hinhört, eine beträchtliche Schlagzahl. Von Bill Haley über die Three Chuckles bis zu den Tazmen und den Tamaneers griffen viele Bands gerne zum guten alten Heimwehkompressor.
Viel ungewöhnlicher ist da die Repertoire-Auswahl von Edward R. Platakis (1921 – 2010) und seinen Jungs:
"Chinese Lullaby" wurde 1918 von R. H. Bowers für das Schauspiel "East Is West" komponiert und erreichte bereits im Folgejahr in verschiedenen Versionen den Schallplattenmarkt. Ein richtiger Hit wurde der Song allerdings erst 1932 in der Fassung des "King Of Jazz" Paul Whitemann. Dabei handelte es sich allerdings um eine ältere Aufnahme, entstanden 1929 unter der Mitwirkung des legendären Jazztrompeters Bix Beiderbecke.
Zurück zu Eddie Patt.
Seinen größten Erfolg feierte er 1958 mit seiner Fassung von "Tequila", der damals erfolgreichsten Coverversion des internationalen Hits der Champs.
Ein Jahr zuvor, 1957, traten Eddie Platt und seine Mannen einen Job im "Manager Hotel" in Cleveland, Ohio an, den sie auf mehr als zehn Jahre ausdehnen konnten. Das bedeutete einerseits einen geregelten Arbeitsalltag, andererseits aber auch, dass regelmäßige Tourneen durch das ganze Land unmöglich waren.
Auf lokaler Ebene wirkten sie häufig als Begleitband für durchreisende Stars und blieben jahrzehntelang in ihrer Heimatstadt hochgeachtete Musikprofis.
---
A Frantic Antic – THE JUMPIN' JACKS & Dick Marx Orchestra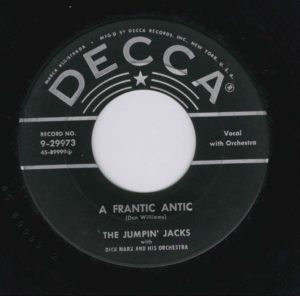 Ein singendes Pärchen namens "The Jumpin' Jacks" spielte 1956 einen Rundfunkjingle für Pepsodent-Zahnpasta ein: "You'll Wonder Where The Yellow Went". Diese Werbemelodie entpuppte sich als so erfolgreich, dass sie auf komplette Songlänge gebracht und für den Schallplattenmarkt produziert wurde.
Fehlte nur noch eine B-Seite: "A Frantic Antic".
Die wurde, genau wie die A-Seite, von Don Williams komponiert, dem älteren Bruder des über alle Maßen erfolgreichen Pop-Sängers Andy Williams. Der Arrangeur und Bandleader der Produktion war Dick Marx (1924 – 1997), ein in Chicago tätiger Pianist und Bandleader, dessen Combo lange Zeit die Hausband im berühmten Nachtclub "Mister Kelly's" in der Rush Street war.
Entweder die ganze Combo oder Teile der Band,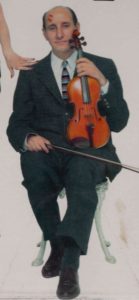 insbesondere der legendäre Bassist und Violinist John Frigo (1916 – 2007) sind auf etlichen Platten zu hören, die live im "Mr. Kelly's" entstanden sind. Dick Marx war noch über Jahrzehnte als Jazzmusiker sowie als Komponist und Produzent für Werbejingles tätig. Das Gesamtwerk der Chicagoer Jumpin' Jacks beschränkte sich auf diese eine Single.
Bei den ansonsten auftauchenden Gruppierungen gleichen Namens handelt es sich um gänzlich andere Künstler.
---
Boys Out Of School – ROY LANHAM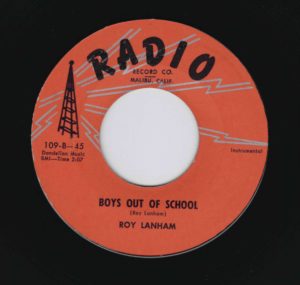 Die Gitarrenkünste des Roy Lanham (1923 – 1991) können Gitarrenfreaks und Musikfans etlicher Stilgattungen zum Zungenschnalzen bringen:
Western Swing, Jazz, Gospel, Rock & Roll, Easy Listening – Roy Lanham konnte das alles und er konnte es besser als fast alle anderen.
Schon ab Mitte der 40er Jahre war er ein begehrter Studiomusiker, spielte mit Hank Penny, den Delmore Brothers (z.B. auf ihrem legendären "Freight Train Boogie") und seinem überragenden eigenen Quartett The Whippoorwills.
Die Bands und Orchester in den TV-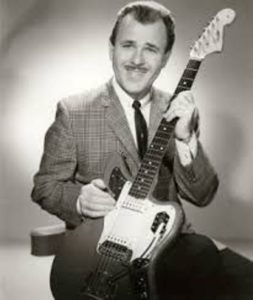 Shows aus Los Angeles rissen sich sein Berufsleben lang um ihn und er gehörte zu Crème de la Crème des Gitarrenadels der amerikanischen Westküste.
Seine kompromisslosesten Rock & Roll-Instrumentals unter eigenem Namen erschienen
1958 auf dem Radio-Label aus Malibu, einer Unternehmung des in der Musikszene vielseitig aktiven Impresarios Fabor Robinson.
---
Send Me, Baby – RALPH JAY & Ray Ellis Chorus & Orchestra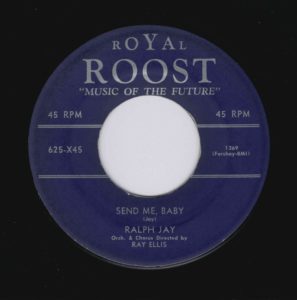 Das große Nichts. Keine Ahnung. Kein Hinweis. Sein Name ist Nobody.
Nur soviel: Ralph Jay (wie immer er richtig hieß) war einer der ganz wenigen Rock & Roll-Künstler auf Royal Roost, einem Label, das sich zu Dreivierteln im Jazz-Umfeld verortete.
Ray Ellis, der das Ganze arrangierte und die Aufnahmesession leitete, steuerte ein bisschen Combo- und Vokalgruppen-Sounds bei und gab sich alle Mühe, den Gene-Vincent-artigen Gesang seines Schützlings nicht zu übertünchen. Verwundert nehmen wir immerhin zur Kenntnis, dass Ray Ellis überhaupt Zeit für diese kleine Session fand, arbeitete er doch normalerweise für Sängerinnen und Sänger ganz anderer Kajüte: Billie Holiday, Johnny Mathis, Johnnie Ray etc. etc.
Vielleicht brauchte er einfach das Geld.
---
You're My Thrill – MARTI BARRIS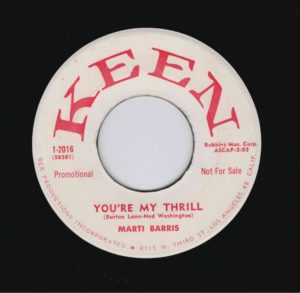 Wenn es je seine Sängerin gab, auf die die Beschreibung "stammt aus einer Showbiz-Familie" zutraf, war das Marti Barris (1937 – 1995).
Ihre Mutter war Loyce Whiteman, seit den frühen 30er Jahren eine der ersten Big-Band-Sängerinnen. Ihr Vater war der legendäre Harry Barris, einst ein Mitglied der Rhythm Boys, jenem legendären Vokaltrio, das seine größte Zeit Ende der 30er Jahre beim Orchester von Paul Whiteman hatte. Sie sehen Harry Barris auf unserem Photo Ende der 20er Jahre zwischen seinen Rhythm-Boys-Kollegen Bing Crosby und Al Rinker. Nach seiner Zeit bei den Rhythm Boys arbeitete Harry hauptsächlich als Komponist und steuerte ein paar große Nummern zum American Songbook bei.
Die Sangestalente von Marti wurden früh erkannt und schon als Teenager bekam sie ihren ersten Plattenvertrag. Top-Autoren schrieben für ihre großartige Stimme, z. B. ehden ahbez, der Mann, der nicht nur "Nature Boy" für Nat King Cole geschrieben hat, sondern auch "Wine Women And Gold" für The Carsons (siehe DOWN AT THE UGLY MEN'S LOUNGE Vol. 1).
Anfang der 60er Jahre wurde sie ein Star des Kinderfernsehens und war für ein paar Jahre die Partnerin der populären Marionette Howdy Doody. "You're My Thrill" ist ein 1959er Ausflug Marti Barris' in die Welt des frühen amerikanischen Popsongs. Einer der Gitarristen bei dieser Aufnahme dürfte René Hall gewesen sein.
---
Bongo Mambo – THE BOP-A-LOOS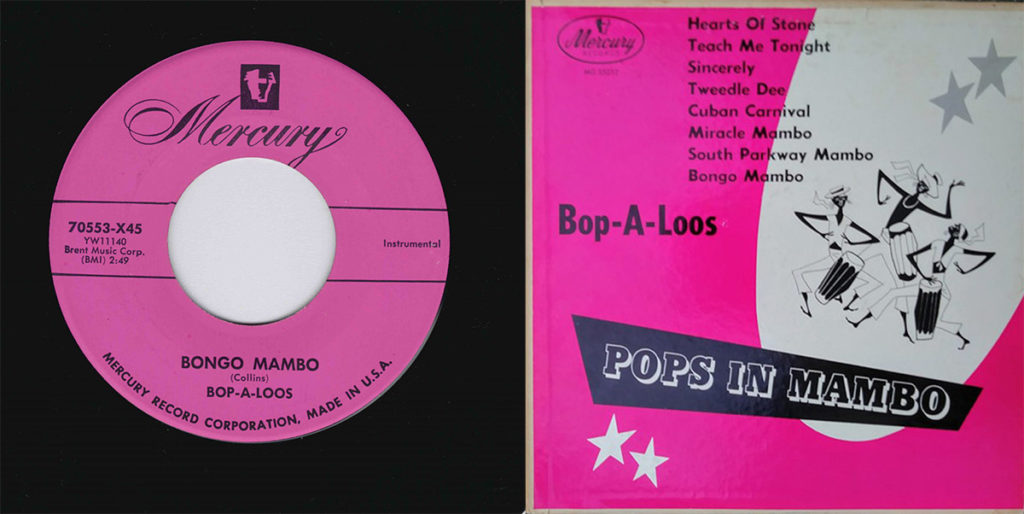 Diese reine Studioformation versorgte das Universum der Tanzwütigen in der Saison 1954/55 mit den nötigen exotischen Rhythmen.
Neben ihren Interpretationen großer Hits wie "Sincerely", "Tweedlee Dee" oder "Hearts Of Stone" sticht "Bongo Mambo" als Original in besonderer Weise aus ihrem Repertoire hervor und hat sich über die Jahrzehnte zu einem sehr geheimen Hit des Latin Jazz entwickelt.
---
I Really Mean It – BILL WALTERS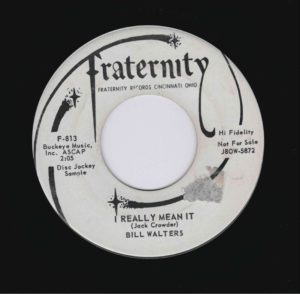 Man kann davon ausgehen, dass dieser Bill Walters (es gibt derer etliche in der amerikanischen Musikgeschichte) in Wirklichkeit Bill Wibbeler hieß und sich eher als Komiker denn als Sänger sah.
Somit gehört er zu den Interpreten, deren formidables Rock & Roll-Output erst nach Anhören ihrer B-Seiten wahrgenommen wird.
Prangt auf der A-Seite dieser 1958er Single des Fraternity-Labels die komplett überflüssige und peinliche Novelty-Nummer "Orang-Ou-Tango" als Zusammenarbeit mit "Ape Friend Dee Felice", so überzeugt "I Really Mean It" durch Schmissigkeit, Lässigkeit und ein Top-Gespür für den locker schlenkerigen Groove, den wir hier bei DOWN AT THE UGLY MEN'S LOUNGE so sehr schätzen.
Biographische Fakten? Fehlanzeige….
---
Who's On First – STACY BENGAL & His Six Outfielders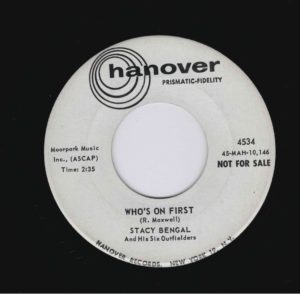 Diese Single war 1959 definitiv für Baseball-Fans gedacht und gemacht. "We Came To Demolish Cleveland" hieß die martialische A-Seite. Der interessantere Rock & Roll-Instrumentaltitel aber wurde mit der B-Seite geliefert. Was ist das für ein Solo-Instrument? Höchstwahrscheinich eine mit Trommelstöcken gespielte Gitarre. Einzigartig! Dazu ein Bläsersatz aus Klarinette und Sopransaxophon. Umwerfend!
Das Ganze ist eine Schöpfung von Robert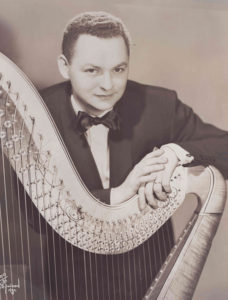 Maxwell, einem der erfolgreichsten amerikanischen Pop-Harfenisten und dazu noch der Komponist des Evergreens "Shangri-La".
Ich habe es immer gesagt: Unterschätzt mir die Harfenisten nicht!
---
You Laughed (When I Cried) – BOBBY BLUE & The Love Orchestra
Bobby Blue glaubte definitiv an diesen Song, sonst hätte er ihn nicht zweimal herausgebracht:
Zuerst 1959 auf dem Label Love Records mit der Hausband der Firma, geleitet vom legendären Jazz-Drummer Cozy Cole (unsere Version) und zwei Jahre später als "Bob Blue" auf der Marke Dayhill.
Beiden Fassungen war unverständlicherweise kein großer Erfolg beschieden.
Alle nötigen Fakten zum Love-Label könne Sie den Notizen zu "Lookout" von Savina (Vol. 3) entnehmen.
---
Bo Diddley – BONNEMERE & His Piano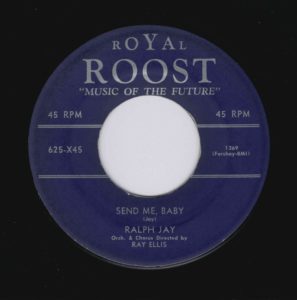 Eddie Bonnemere (1921- 1996) gehörte zu den Pianisten, die auf Wunsch mit der linken Hand Boogie Woogie und mit der rechten die "Kleine Nachtmusik" spielen konnten.
Zu seiner großen Zeit war er ein Label-Kollege von Ralph Jay, brachte aber auf Royal Roost ungleich mehr Veröffentlichungen heraus, darunter einige recht erfolgreiche Langspielplatten. In den 60ern wechselte er zum seinem Namen alle Ehre machenden berühmten Jazz-Label Prestige.
Sein Anschlag war getupft, seine Arrangements von der eher locker-gepflegten Sorte. Auf beide Attribute verzichtete er bei der Produktion seiner 1955 erschienenen Version von Bo Diddleys "Bo Diddley" völlig.
Fraglos handelt es sich hierbei um den überraschendsten und ungewöhnlichsten Beitrag Eddie Bonnemeres zu seinem eigenen Katalog.
---
Rockin' The Ark – JOHNNY ARCESI & Nelson Riddle Orchestra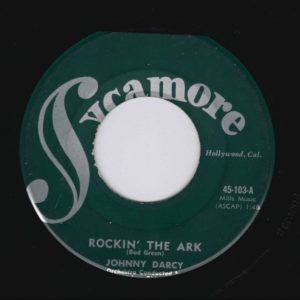 Jetzt wird's kompliziert.
John Anthony Arcesi (1917 – 1983) trat bereits als Kind im Rundfunk auf und veröffentlichte schon 1934 erste Schallplattenaufnahmen als Sänger des Lud Gluskin Orchesters.
In den nächsten Jahren wechselte er seine Orchesterjobs und Rundfunkverpflichtungen so häufig wie seine Künstlernamen und Komponisten-Aliasse: Don Darcy, Chris Darcy, Johnny Darcy, Tony Conti, Chick Johnson etc.
Er betrieb eigene Labels, war in ein paar mittelprächtige Skandale verwickelt und galt allgemein als farbenfroher und zu nahezu nichts zu gebrauchender Außenseiter des Musikgeschäfts. Mit anderen Worten: Sehr sympathisch! 1952 bot ihm Capitol Records einen Vertrag an. Dort arbeitete er wieder unter seinem bürgerlichen Namen. Die zweite Capitol-Veröffentlichung, "Rockin' The Ark", begleitet von Nelson Riddle und seinem Orchester, erschien im folgenden Jahr und kam nicht über den Status einer Promotion-Single heraus. Das war's dann mit Capitol. Johnny Arcesi kaufte dem Label zum Abschied die Rechte an vier der dort produzierten Songs ab und veröffentlichte "Rockin' The Ark" im selben Jahr nochmal auf Kem Records und 1958 erneut auf dem nicht uninteressanten, aber erfolglosen Sycamore-Label. Da hieß er dann wieder "Johnny Darcy". John Arcesi beendete seine Musik-Karriere in den 70er Jahren mit esoterischem Hippie-Kokolores unter dem wolkigen Namen "Arcesia". In den letzten Jahren seines Lebens betätigte sich der Mann mit den hundert Namen vorwiegend als Maler. Viele seiner eigenwilligen Musikproduktionen mit diversen Künstlern, vor allem für sein eigenes "Orpheus"-Label, sind heiße Anwärter auf viele zukünftige UGLY-MEN'S-LOUNGE-Folgen.
---
BONUS: The Disc Jockey's Theme Song – STEVE ALLEN & Mort Garson Orch.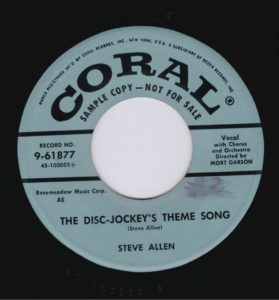 Steve Allen (1921 – 2000), Buchautor, Songschreiber, Schriftsteller, Pianist, Ratefuchs bei "What's My Line", dem Original von "Was bin ich", und vor allem der Erfinder der TV-Institution "Tonight Show" (1954), konnte trotz seiner vielen und vor allem vielseitigen Verpflichtungen einfach nicht vom Schallplattenmachen lassen.
1957 nahm er die Selbstbeweihräucherungs-Jingles amerikanischer Disc Jockeys aufs Korn. Perfekt!
Und auch von dieser Stelle nochmal einen herzlichen Dank an die "Four Fatheads".