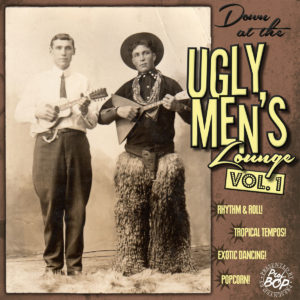 AUS DEM PROF. BOP-ARCHIV:
---
"Take Me Back" – AL BROWN & His Tunetoppers>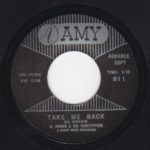 Der Saxophonist, Pianist und Sänger Al Brown (1929 – 2009) war über viele Jahre der Doyen der Rhythm & Blues-Szene von Baltimore. Schon sein Vater Alphonse war ein populärer Jazzmusiker und spielte u. a. eine Zeit lang im Orchester von Don Redman. Seine drei Söhne Al Jr. (Tenorsaxophon, Piano, Gesang), Charles (Altsaxophon) und Donald (Trompete, Gesang) ergriffen denselben Beruf und gründeten gemeinsam mit Grafton Martin (Gitarre), Andrew Walker (Bass), Orney Pate (Drums) und Cookie Brown (Gesang) die Tunetoppers, die sich unter der Leitung von Al zu einer begehrten Begleitband für Package-Tourneen durch die östlichen Südstaaten entwickelten. Bei Schallplattenaufnahmen wirkte regelmäßig die Baltimore-Jazzlegende Mickey Fields (Tenorsaxophon, Piano) mit.
Nachdem Al Browns Single "The Madison" 1960 für einen weltweiten Dance Craze sorgte, erschienen ein Album und eine Handvoll weiterer Singles unter dem Namen Al Brown & His Tunetoppers, teilweise mit der Baltimore-Band, teilweise auch mit New Yorker Studiomusikern eingespielt. "Take Me Back" kam ebenfalls 1960 heraus. Al Brown starb 2009 im Alter von 79 Jahren.
Mehr von Al Brown & His Tunetoppers gibt's auf "Down At The Ugly Men's Lounge Vol.2"
---
"We Like Birdland" – THE SATELLITES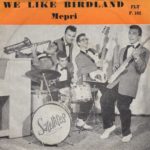 "We Like Birdland" in der Version der Satellites erschien erstmals 1960 auf dem kleinen Palace-Label. Danach wurde die Single bis 1964 noch auf verschiedenen Marken in Europa und den USA wiederveröffentlicht. Nachdem der Saxophonist Joey Ambrose (geb. 1934, auch bekannt als Joey d' Ambrosio) 1955 gemeinsam mit dem Bassisten Marshall Lytle und dem Schlagzeuger Dick Richards bei Bill Haley & The Comets ausgestiegen war, gründeten die drei The Jodimars, die für einige Jahre einer der populärsten Rock & Roll Acts in Las Vegas waren. Nach dem Ende der Jodimars ging Ambrose in seine Heimatstadt Philadelphia zurück und formierte die Satellites, die schon kurz nach der Gründung der Band ebenfalls in den Lounges von Las Vegas auftraten.
Joe Ambrose verbrachte den größten Teil seines Musikerlebens auf den Bühnen und in den Orchestergräben der Spielermetropole, bis er in den 90er Jahren wieder regelmäßig weltweit mit seinen alten Kollegen von den Jodimars und anderen ehemaligen Comets als Bill Haley's Original Comets auf Tournee ging.
---
"The Dickie-Doo" – MIKE PEDICIN Quintet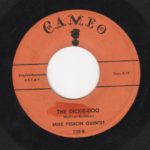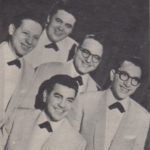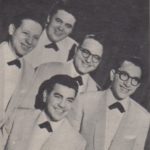 Auch der 2016 im Alter von 99 Jahren verstorbene Mike Pedicin war ein großer Name in der frühen Rock & Roll Szene von Philadelphia. Er formierte seine erste Swing Combo bereits 1940. Eines der Gründungsmitglieder war die spätere Rock & Roll-Legende Dave Appell, ein anderes der Bassist Lou de Francis, der seine gesamte Musikerlaufbahn bei Mike Pedicin verbrachte. Die Combo von Mike Pedicin gehörte zu den ersten weißen Ensembles, die in den Clubs von Philadelphia und im nahe gelegenen Ferienparadies Wildwood, New Jersey mit Rock & Roll-Versuchen experimentierten – zeitgleich mit anderen Pionieren wie Jimmy Cavallo, Charlie Gracie und Bill Haley. "The Dickey-Doo" war der 1958er Versuch, einen Dance Craze für die von Dick Clark moderierte TV-Show "American Bandstand" zu etablieren. Der Titel des Songs bezog sich auf Dick Clarks Sohn Dickie. Die andere Seite der Single war eine Wiederveröffentlichung: Schon 1954 war Mike Pedicins "Shake A Hand", die Coverversion des '53er R&B Hits von Faye Adams, erstmals herausgekommen. Jetzt, im zweiten Anlauf, wurde die Nummer zum größten Hit für das Pedicin Quintet. Der "Dickie-Doo" aber war schnell vergessen. Bis jetzt.
Zum Zeitpunkt dieser Aufnahme bestand das Mike Pedicin Quintet aus dem Bandleader (Altsaxophon), Sam Cocchia (alias Sam Cooke, Gitarre), Buddy La Pata (Piano), Lou de Francis (Bass) und Al Mauro (Drums, Gesang).
---
"Too Much Chianti" – BRUNO, His Guitar & His Brunos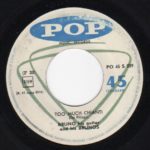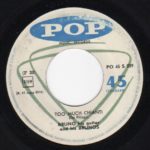 Der "Bruno", um den es hier geht, ist Bruno de Filippi (1930 – 2010). Er gilt heute als erster bedeutender italienischer Elektrogitarrist und war mit seinen Studioensembles über Jahre für zeitgemäße Künstlerbegleitung in den Studios und auf den Bühnen von Bella Italia berühmt. Sein Haupt-Auftraggeber war der in Italien und der Schweiz tätige Produzent Walter Guertler.
1951 veranlasste Guertler ihn zu ein paar Country & Western-Aufnahmen, den ersten in italienischer Sprache. Es folgten Studioproduktionen mit zahlreichen jungen und modernen, dem Rock & Roll durchaus zugewandten Künstlern, vor allem Tony Dallara. Bei den Rock- und Canzonen-Sessions firmierte die Combo von di Filippi meistens als "I Campioni". Seine eigenen Instrumentalplatten auf den Gebieten Latin, Rock & Roll und später Beat liefen fast immer unter "Bruno & His Brunos" oder Variationen dieses Namens. Für ungezählte italienische Filmkomödien und Krimis spielte die Band die Soundtracks ein. Bruno de Filippis Herz aber schlug in erster Linie für die Jazzmusik. Bis heute wird er von Kollegen auf seinem Instrument als ein Großmeister des Italo Jazz verehrt.
Nahezu jeder internationale Jazz-Star auf der Durchreise wollte mit ihm spielen, und so kam es zu Zusammenarbeiten mit Louis Armstrong, Gerry Mulligan, Bud Shank oder sogar Les Paul und Astor Piazzolla. Mehrmals bereiste di Filippi die USA, wo ihm die Jazzgemeinde den roten Teppich ausbreitete.
Der Titel "Too Much Chianti" spielt natürlich auf den Vorjahres-Hit der Champs "Too Much Tequila" an. Die Aufnahmen von Bruno und seinen Brunos erschienen in den 50er und 60er Jahren in ganz Europa und gelegentlich auch in den USA.
---
"Love Charms" – DIANE MAXWELL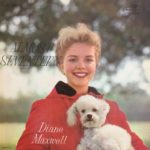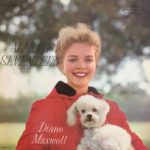 Ständig auf der Suche nach Teenager-Talenten wurde der Songwriter und Musikverleger Billy Sherman 1958 während eines Amateur-Wettbewerbs der George Washington High School in Los Angeles auf die gerade sechzehnjährige Diane Maxwell aufmerksam. Er vermittelte ihr einen Auftritt in der prestigeträchtigen TV-Show von Lawrence Welk, wo sie das Publikum mit ihrer Version von "As Time Goes By" bezauberte.
Nach einigen Verpflichtungen in der Fernsehsendung "Breakfast Club" bot ihr die noch junge Plattenmarke Challenge, deren Mitbegründer der singende Cowboystar Gene Autry war, einen Schallplattenvertrag an.
Im Oktober 58, Diane hatte gerade ihren siebzehnten Geburtstag gefeiert, wurde ihr Album "Almost Seventeen" aufgenommen, dessen Repertoire größtenteils aus aufwendig produzierten Balladen bestand. Für den exotischen Gehalt des Programms sorgte "Love Charms", eine Komposition des umtriebigen Pianisten, Sängers und Rock & Roll-Originals Ray Stanley, der dieses Lied zwei Jahre zuvor selbst mit Eddie Cochran an der Gitarre eingespielt hatte. Bis 1961 nahm Diane (gelegentlich auch "Dianne") Maxwell noch Schallplatten auf, dann lief ihre Gesangskarriere gemächlich aus.
---
"Dansero" – BILLY MURE's Rocking Guitars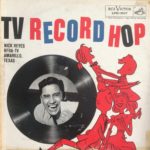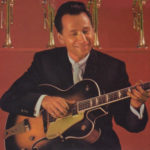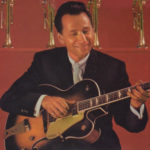 Im selben Jahr, 1958, wurde ein Album veröffentlicht, das die Werbetrommel für verschiedene regional bedeutende Fernseh-Disc-Jockeys rühren sollte. "TV Record Hop" erschien u.a. mit Bildern von Buddy Deane (WJZ), Herb Sheldon (WABQ) und Ted Randal (KPIX). Hier sehen sie die texanische Version mit Nick Reyes (KFDA). Die Musik auf dem Album war ein Querschnitt durch die wunderbare Welt der Teenager-Tanzmusik zwischen R&B, Cha Cha und Big Band Jazz. Insbesondere der "Rock-Cha" wurde als die große neue Welle des Jahres '58 präsentiert. Der Album-Beitrag "Dansero" von Billy Mure und seiner Studiocombo The Rockin' Guitars galt als Hymne dieser Welle.
Billy Mure (eigentlich Sebastian Mure, 1915 – 2013), ein virtuoser Gitarrist für jede Gelegenheit, gehörte zu den Hauptleistungsträgern in der New Yorker Studioszene der 40er bis 70er Jahre. Außerdem wirkte er als Arrangeur und Produzent. Bei "Dansero" versuchte er erfolgreich, den Sound von Mickey "Guitar" Baker zu imitieren.
---
"Track That Cat" – THE BONNIE SISTERS & Mickey "Guitar" Baker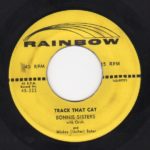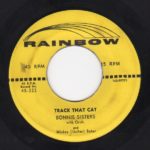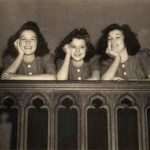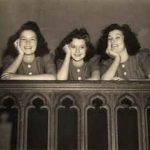 À propos Mickey "Guitar" Baker:
Auch der (1925 – 2012) war eine viel beschäftigte Größe in den New Yorker Studios, dort vielleicht der meistgebuchte Gitarrist in Sachen Rhythm & Blues. Gemeinsam mit seiner Duett-Partnerin Sylvia Vanderpool schloss er 1955 einen Künstlervertrag für das Duo Mickey & Sylvia bei Rainbow Records ab.
Eine der Hauptattraktionen des Labels hatte Mr. Baker selbst entdeckt: die Bonnie Sisters, deren muntere Rock-A-Mambo-Nummer "Cry Baby" Anfang 1956 ein Knüller der Saison war. Kein Wunder:
Die drei Mädchen (Pat Ryan, Sylvia Trotter und Jean Borgia) pflegten einen charmant-unbekümmerten Gesangsstil, der sofort beim jungen Rock & Roll-Publikum verfing.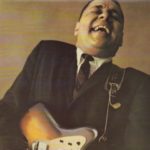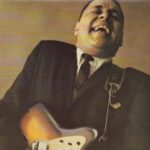 Da Mickey Baker sowieso in der Studio-Begleitband der Bonnie Sisters mitwirkte, war die Idee (vermutlich seine eigene!) naheliegend, ihn bei einer gemeinsamen Nummer besonders herauszustellen. Sylvia Vanderpool spielte die Rhythmus- und Mickey Baker die Lead-Gitarre. Kurz nach Erscheinen von "Track That Cat" wechselten Mickey & Sylvia das Label und landeten mit "Love Is Strange" einen der größten Hits der Saison '56/'57.
---
"Steamboat" – FRANKIE CASTRO & Carl Stevens Orchestra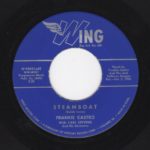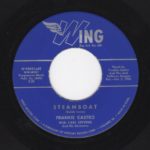 Selbst das eigentlich unerschöpfliche Prof. Bop-Archiv hat nichts an Informationen über Frankie Castro zu bieten. Sicher ist nur eins: Er ist nicht identisch mit dem gleichnamigen Elvis-Imitator, den man heutzutage in den USA für jede Gelegenheit mieten kann.
"Steamboat" war ein 1955 von dem Saxophonisten und Sänger Buddy Lucas (1914 – 1983) komponierter Song der Drifters und immerhin so populär, dass er für den weißen Markt gecovert wurde – eben von "unserem" Frankie Castro, unterstützt von den Jack Halloran Singers und dem Carl Stevens Orchester.
---
"Ooba Dabba Dabba Da" – ROMAINE BROWN & The Romaines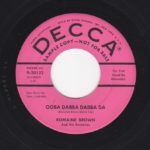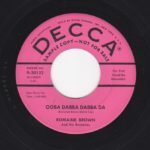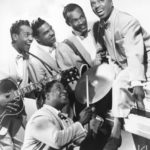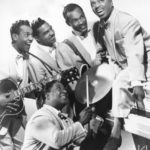 Ganz anders sieht die Informationslage in Sachen Romaine Brown aus. Eigentlich studierte er Bratsche am Curtis Institute of Music in Philadelphia. Bei Nacht aber war er der Begleitpianist für den populären Jazz-Sänger George "Bon Bon" Tunnell. 1943 entschied er sich endgültig für die Jazzmusik und heuerte als Pianist bei den Four Toppers an, aus denen sich in Windeseile die Red Caps entwickelten, die fortan mehr als zwanzig Jahre lang unter verschiedenen Namensvariationen wie The Five Red Caps oder Steve Gibson & The Red Caps zu den erfolgreichsten und fleißigsten Rhythm & Blues-Gruppen Amerikas gehörten. Sie begeisterten schon früh ein weißes Publikum in Hollywood, Atlantic City, Wildwood oder Las Vegas und brachten bereits 1952 rockenden R&B in die Ed Sullivan TV-Show. Nach zehn Jahren bei den Red Caps begeisterte sich Romaine Brown für die Idee, eine eigene Band auf die Beine zu stellen.
Romaine Brown & His Romaines bestanden aus Roy Hayes (Gitarre), Bobby Bushnell (Bass), Henry Tucker Green (Drums), Earl Plummer (Gesang) und Romaine selbst am Klavier. Später stieß noch Earl Edwards (Tenorsaxophon) zur Band.
"Ooba Dabba Dabba Da" erschien im Oktober 1956 und war die vorletzte Veröffentlichung der Band, ehe sie 1959 auseinander ging und Romaine Brown für ein Jahr zu den Red Caps zurückkehrte. Er starb im Juni 1986 im Alter von einundsiebzig Jahren.
---
"Ain't Gonna Throw Any Rice" – RUTH WALLIS & Jimmy Carroll Band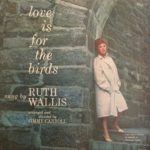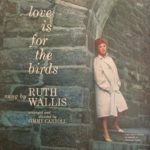 Wie keine andere amerikanische Vokalistin verkörperte Ruth Wallis (1920 – 2007) das sündige Lied. Zunächst noch eine für die Swing-Ära typische Big-Band-Sängerin, begann sie schon früh, sich ein eigenes Programm für Nachclub-Engagements zu erarbeiten, das sich mit dem Themenkomplex Sex beschäftigte.
Alle ihre Lieder (und sie sang nur Selbstkomponiertes!) setzten sich frivol bis schlichtweg pornographisch mit dem Thema Nummer 1 auseinander. Nicht selten wurde sie auf der Bühne verhaftet und aus der Stadt geworfen. Regelmäßig wurden ihre Schallplatten konfisziert, wurden Rundfunk-Einsätze ihrer Songs verboten. Kein Wunder, dass es schwer für sie war, eine Plattenfirma zu finden, deren Mut soweit reichte, das jährliche Song-Oevre der Wallis in angemessener Form zu veröffentlichen. So gründete sie 1952 mit zwei Geschäftspartnern die eigene Marke Wallis Original, auf der fortan ihre gesammelten Werke erschienen.
Mit ihrem 1959er Album "Love Is For The Birds" beschritt sie neue Wege:
Hier beleuchtete sie die eher bittersüßen Seiten der Liebe, begleitet vom Bandleader Jimmy Carroll, der im Laufe seiner langen Karriere auch als musikalischer Begleiter solcher Stars wie Cab Calloway oder Marlene Dietrich gearbeitet hat. Die Rock & Roll-Nummer "Ain't Gonna Throw Any Rice" ist einer der besten Songs des Albums.
---
"Mambo Gunch" – CHRIS POWELL & The Blue Flames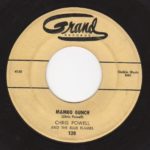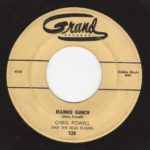 Ähnlich wie Steve Gibson & The Red Caps oder Romaine Brown & His Romaines waren Chris Powell & The Blue Flames eine Gruppe, die sowohl für geschmeidigen Vokalgruppensound als auch für deftige Combomusik stand. Bevor sich der Schlagzeuger Chris Powell anschickte, als R&B-Bandleader in Philadelphia sein Glück zu versuchen, erspielte er sich u. a. in der legendären Swing-Band des Bassisten John Kirby einen exzellenten Ruf.
Mitglieder der Blue Flames neben Chris Powell waren Vance Wilson (Tenorsaxophon, Bongos), Duke Wells (Piano), die beiden Gitarristen Eddie Lambert und Bill Jennings, James Johnson (Bass) sowie der Sänger Johnnie Leak alias "Johnnie Echo". "Mambo Gunch" ist nicht viel mehr als ein 1954 mal eben so hingehauener B-Seiten-Jam – und doch bleibt das Trommel- und Shout-Inferno auf Dauer nicht ohne Reiz.
---
"Wine, Women & Gold" – THE CARSONS & Perry Botkin Band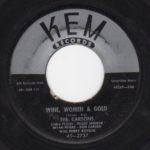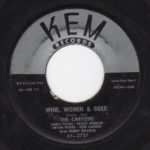 Die ungewöhnliche Rock & Roll-Nummer "Wine, Women And Gold" stammt aus der Feder einer der speziellsten Figuren der Musikszene der 40er und 50er Jahre: eden ahbez (eigentlich George A. Aberle, 1908 – 1995). Dieser Mann legte stets Wert darauf, dass sein Name nur in Kleinbuchstaben geschrieben wurde – die Großbuchstaben waren seiner festen Überzeugung nach den Göttern vorbehalten. In den 40er Jahren lebte er als Proto-Hippie in einem Zelt unter dem ersten "L" des großen "Hollywood"-Schriftzuges oberhalb von Los Angeles und versuchte, seine Kompositionen an populäre Sänger zu verkaufen. Seinen Durchbruch als Songschreiber schaffte er mit "Nature Boy", das in der Fassung von Nat King Cole ein Millionseller und einer der größten Hits des Jahres 1948 wurde.
In den folgenden Jahren schrieb eden ahbez noch weiter hymnische Lieder, darunter eine auf "Nature Boy" basierende Suite für den Sänger Herb Jeffries, und nahm gegen Ende des nächsten Jahrzehnts sogar ein eigenes Album mit faszinierender Exotica-Musik auf. Die meisten seiner veröffentlichten Kompositionen waren aber leicht ins Schräge spielende Rock & Roll-Nummern wie "Wine Women And Gold", die er mit Vorliebe seinem Freund Don Carson anbot. Der leitete die Vokalgruppe The Carsons, bei der Linda Peters, Peggy Spencer und Bryan Peters mitsangen. Begleitet wurden die Carsons von einer weiteren legendären Figur: Perry Botkin (1907 – 1973). Botkin war einer der ersten Jazz-Gitarristen, die schon Ende der 20er Jahre in den Jazzbands die Ablösung des Banjos durch die Gitarre betrieben. Seit den 30er Jahren war er als Studiomusiker, Komponist und Arrangeur für Rundfunk, Schallplatten, Tonfilm und später Fernsehen einer der Hauptleistungsträger in der Musikszene von Hollywood. Die Aufnahmesession mit den Carsons wird für Perry Botkin damals, 1955, nur ein Job von vielen gewesen sein, aber immerhin brachte er dazu seinen Sohn Perry Botkin Jr. mit, der hier die Ukulele spielte und später mit überaus großem Erfolg in die Fußstapfen seines Vaters trat.
Der Leiter der Carsons, Don Carson, machte mit seiner Gesangsgruppe weiter und veröffentlichte im Laufe der folgenden Jahre Schallplatten unter den verschiedensten Künstlerbezeichnungen wie z.B. Don Carson & The Casuals oder Don Carson & The Whirlaways, zu denen eden ahbez immer mal eine Kompositionen beisteuerte.
---
"Mexican Rock" – CARL "ACE" CARTER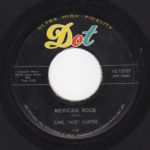 Eigentlich war Carl "Ace" Carter (1931 – 1996) ein Jazzpianist von Rang, aber die Aussicht auf Ruhm und Reichtum in Form einer Rock & Roll-Produktion war zu süß und verlockend, um sich das Leben unnötigerweise mit musikalischem Purismus schwer zu machen.
So kam es 1958 zur Veröffentlichung des "Mexican Rock", der mit seinem orientalischen Flair auch ohne Weiteres "Arabian Rock", "Turkish Rock" oder "Persian Rock" hätte heißen können. Seinem eigentlichen musikalischen Idol Count Basie kam Carl "Ace" Carter viel später ganz nahe, als er nach dessen Tod 1984 den Job des Pianisten der Count Basie Big Band erhielt.
---
"My Funny Valentine" – MERI ELLEN & Her Cohorts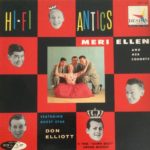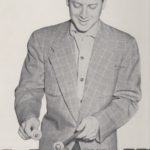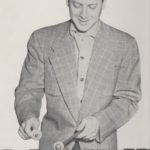 Im Grunde eine schöne Geschichte: Eine obskure kleine Band spielt in irgendeinem Nachtclub, wird entdeckt und man bietet ihr nicht nur einen Schallplattenvertrag an, sondern sorgt auch noch dafür, dass der größte Star des Labels bei den Aufnahmen als Gastmusiker mitwirkt. Genau so spielte sich das Geschehen um das erste und einzige Album von Meri Ellen & Her Cohorts ab. Dieses Quartett (neben der Sängerin Meri Ellen waren noch drei anonym gebliebene Sänger und Instrumentalisten an Akkordeon, Gitarre und Kontrabass mit von der Partie) überzeugte die maßgeblichen Männer bei Design Records… aber nicht so sehr, dass man ihnen die Einspielung des Albums ganz allein anvertrauen wollte. Also wurde die Gruppe im Studio noch um zwei zusätzliche Musiker verstärkt: Zum Aufpeppen des Rhythmus engagierte man den namhaften Jazzdrummer Howie Mann (1927 – 2001). Dazu kam der größte Name des Design-Labels, der unvergleichliche Don Elliott (1926 – 1984)! Dieser Multi-Instrumentalist spielte Vibraphon, Trompete, Mellophon (eine jazzfähige Variante des Waldhorns) und Bongos. Zudem war er ein ungewöhnlich guter Sänger und sah aus wie ein Filmstar. Er veröffentlichte zahlreiche Alben unter eigenem Namen und wirkte bei unzähligen Aufnahmesitzungen als Studiomusiker mit. Kurz: eine echte Größe!
Das Album von Meri Ellen & Her Cohorts scheint (Zeitgründe? Kostengründe?) an einem einzigen Nachmittag eingespielt worden zu sein. Man hat das Gefühl, dass Don und Howie mal eben so mitspielten und schnell wieder weg mussten (oder wollten? Oder noch eine Verabredung mit Meri ohne die Cohorts hatten?).
"My Funny Valentine" entstammt dem 1937er Erfolgsmusical "Babes in Arms" von Richard Rodgers und Lorenz Hart und gehört zu dem absoluten Klassikern des American Songbook.
Viel Spaß mit dieser Version!