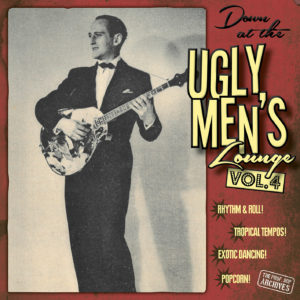 AUS DEM PROFESSOR BOP-ARCHIV:
---
Koko-Mamey – MOE KOFFMAN Quartet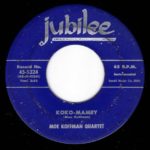 Seit seinem Überraschungshit "Swinging Shepherd Blues" im Jahre 1958 gehörte der kanadische Saxophonist und Flötist Moe Koffman (1928 – 2001) zu den populärsten Künstlern seiner Heimat. Auch in den USA hatte sein Name einen guten Klang und der Stapel seiner Veröffentlichungen ist beindruckend. Koffmans Talent als röhrender Rock'n'Roller fand dabei nur wenig Beachtung. So ging sein entfesseltes "Koko-Mamey", eigentlich eine leicht tequilöse Fassung des russischen "Wolgaschiffer-Liedes" als B-Seite seiner Calypso-Scheibe "Little Pixie" (im Juni 1958 immerhin eine # 72 der amerikanischen Hitparade) irgendwo im Rock'n' Roll-Niemandsland verloren.
---
Fever Twist – HENRY WRIGHT & Il Suo Complesso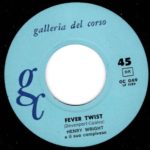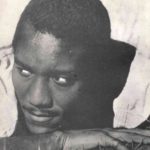 Das gute alte "Fever" fand im Laufe der Jahre viele begeisterte Interpreten. Angefangen bei Little Willie John (1956) über Peggy Lee (1958), Elvis Presley (1960), The Three Suns (1960), Sam Butera (1959) und The McCoys (1965) bis hin zu Beyoncé (2003) hat diese Komposition von Eddie Cooley und Otis Blackwell (er benutze hier das Pseudonym John Davenport) ihren Status als Klassiker des amerikanischen Liedguts wacker verteidigt.
Der in Italien lebende amerikanische Sänger Henry Wright veröffentlichte seine "Fever"-Fassung (aus allzu durchsichtigen Gründen in "Fever Twist" umbenannt) 1962 als Rückseite seiner Single "Abat-jour" (dahinter verbarg sich die französische Version des alten Robert-Stolz-Schlagers "Salome"), die ihrerseits einen Platz in den Herzen der Cineasten innehält: 1963 legte Sophia Loren zu Henry Wrights "Abat-jour" im Film "Ieri, oggi, domani" ("Gestern, heute und morgen") einen sensationellen Striptease hin, während Marcello Mastroianni vor Aufregung nicht wusste, wohin mit seinen Händen…
---
Ooh How I Love Ya – MURRAY SCHAFF & His Aristocrats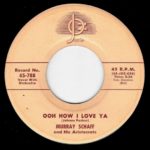 Murray Schaff & His Aristocrats waren eine der typischen, swingenden Jive Bands der amerikanische Ostküste, die die Rock'n'Roll-Achse zwischen Philadelphia und Las Vegas bespielten.
1956, zur Zeit der Veröffentlichung von "Ooh How i Live Ya", bestand die Band aus John McLean (Gitarre), Jerry Kay (Piano, später ersetzt durch den als Bandleader der "Jazz Bombers" bekannten Bobby Boyd), Lou Cavae (Bass) und Johnny Ogden (Schlagzeug). Mr. Schaff selbst spielte das Tenorsaxophon und sang.
Für Schallplattenausnahmen wurde die Band gelegentlich um die Position eines zweiten Saxophonisten erweitert – so auch hier. Leider ist der Name des Baritonsax-Spielers nicht bekannt, aber ohne ihn wär's nur halb so schön!
Die Schallplattenkarriere von Murray Schaff (1927 – 1996) erstreckte sich von 1954 bis 1960.
---
Red Devil – JOHN GRAVEN Quintet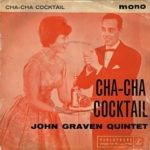 Ist das Cha Cha Cha? Oder Exotica? Oder einfach nur ein schräges Rock'n'Roll-Instrumentalstück?
Egal, was es ist – es ist genial!
Der Gitarrist John Graven aus Kopenhagen (eigentlich Jørn Grauengård, 1921 – 1988) konnte seine Ep "Cha Cha Cocktail" 1960 fast weltweit (einschließlich Indien!) lancieren. Drei der vier Nummern darauf sind hübsche, aber konventionelle Tanzmusik.
"Red Devil" aber sticht ab: Marimbaphon, Vokalgruppe und gleich mehrere übereinander gelegte Elektrogitarren sorgten für verblüffende Klangeffekte und sichern Meister Grauengård einen Platz im Olymp ungewöhnlicher und seltsamer (Fast-) Instrumentalmusik.
---
Fightin' Mad ('Cause I'm A Bad Loser) – DANNY COSTELLO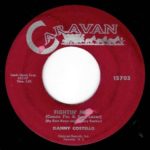 Kein anderer als der über alle Maßen bedeutungsvolle Jazz-Gigant Benny Carter (1907 – 2003) schrieb diesen Song gemeinsam mit Don Raye (1909 – 1985), einem der erfolgreichsten Autoren klassischer Boogie-Woogie-Hits der Swing-Ära.
Der Interpret von "Fightin' Mad", Danny Costello, war ein einsamer Wanderer zwischen den Pop- und Rock-Stilen seiner Zeit. Er veröffentlichte seine Singles zwischen 1955 und 1963 auf Labels wie Coral, MGM, Escapade und, wie hier, auf Caravan Records, angesiedelt in Paramount, New Jersey.
Das war 1957…
---
Headin' North – JOHNNY KEATING'S Kombo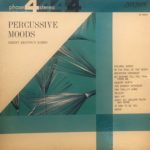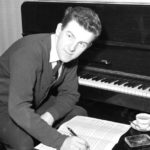 Wie schrieb Johnny Keating so richtig in den Liner Notes für sein 1961er Album "Percussive Moods" über "Headin' North":
"It's the screaming mood of today: the rock." Sehr richtig.
Und da wollte er nicht abseits stehen.
Also schrieb, arrangierte und produzierte er diesen Knüller, der uns alle lehrt, dass sich einige der erstaunlichsten Funde unserer Musik genau dort aufspüren lassen, wo man sie am allerwenigsten erwartet!
---
Let It Roll – ANNISTEEN ALLEN & Lucky Millinder & His Orchestra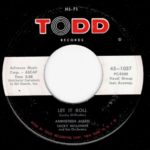 Es war 1947, als Lucky Millinder (1910 – 1966) und die Sängerin seines Orchesters, Annisteen Allen (1920 – 1992), die Originalfassung von "Let It Roll" auf dem Decca-Label veröffentlichten. Der besondere Status dieser Nummer als ein Meilenstein des Rhythm & Blues wurde noch untermauert, als beide diese Nummer in dem 1948er Musikspielfilm "Boarding House Blues" zum Besten gaben.
Zwölf Jahre später war die Welt eine andere.
Lucky Millinders Orchester war längst dem Big-Band-Sterben anheim gefallen und Annisteen Allens Solo-Karriere stagnierte ein wenig.
Was lag näher, als beide Namen wieder auf einem Schalplattenetikett zu vereinigen. Allerdings waren diesmal die Rollen anders verteilt: Annisteen Allens Name stand groß auf dem Label und der von Lucky Millinder eher klein als der des begleitenden Orchesterchefs. Das "Orchester", das er hier befehligte, war eine köchelnde kleine Band, Orgel-lastig und spielfreudig, irgendwie verdächtig nach dem Ensemble von Bill Doggett klingend.
Vergleichen Sie bitte diese Aufnahme mit Bill Doggets Version von "Open The Door, Richard" auf Vol.3 dieser Serie. Na?
Das Label dieser Veröffentlichung, Todd Records, gehörte dem Geschäftsmann Paul Cohen mit Lucky Millinder als stillem Teilhaber. Bald nach Erscheinen dieser Single beendete Lucky endgültig seine Karriere als Musiker. Annisteen Allen brachte noch bis 1962 Schallplatten heraus.
---
Mambo Blues – NAT BROOKS & The Mambo Boys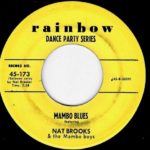 Das kleine aber über alle Maßen feine Label Rainbow Records war bahnbrechend für die Geschichte sowohl des Rock'n'Roll als auch für die des Mambo. Rhythm & Blues und Rock-Pioniere wie The Clovers, The Esquire Boys (mit Danny Cedrone, dem Lead-Gitarristen auf Bill Haleys "Rock Around The Clock"), Rockabilly-Vordenker Donny Baker, das R&B-Duo Mickey & Sylvia oder Jive-Bandleader Mike Pedicin waren genauso darauf vertreten wie die Chef-Latinos Esy Morales, Johnny Conquet oder Alfredito. Was lag näher, als das Beste aus beiden musikalischen Welten zusammen zu bringen: Nat Brooks, ein Blues- und Calypso-Interpret, Pianist und Bandleader, besaß 1952 die Kühnheit, den guten alten "St. Louis Blues" mit fescher Percussion zu unterlegen und als Eigenkomposition "Mambo Blues" auszugeben.
Das etwas anstrengende elektronische Instrument, welches sich zwischendurch durch das Arrangement zirpt, ist eine "Hammond Solovox", ein frühes Keyboard, schon Ende der 40er Jahre im Fachhandel angeboten und doch sang- und klanglos untergegangen. Nat Brooks weist uns auf dem Etikett der Platte stolz darauf hin, dass er höchstpersönlich für das virtuose Spiel dieser Tischhupe verantwortlich zeichnet.
Andere hätten das diskret verschwiegen.
---
One More Kiss – THE TRIADS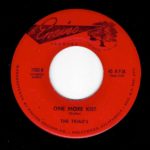 Nicht das kleinste Fitzelchen Informationen über The Triads lässt sich im eigentlich doch ganz ansehnlichen Prof. Bop-Archiv aufstöbern. Verschiedentlich wurde dieser Bandname benutzt, doch keine der in der Literatur beschriebenen Gruppen kommt hier in Frage.
"Unsere" Triads waren 1956 als Vokaltrio für das Encino-Label in Hollywood tätig, wo sie sich von einer Combo samt unkonventionell-dezentem Cembalo begleiten ließen.
Und das war es auch schon.
Nichts zu danken…
---
Pachuko Hop – JERRY MURAD's Harmonicats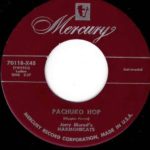 "Pachuko Hop", 1952 vom damals achtzehnjährigen Tenorsaxophonisten Chuck Higgins veröffentlicht, gilt als durch und durch gewaltbereites Meisterwerk des mit hohem Anspruch an Energie und geringem Anspruch an spieltechnischer Raffinesse in die Welt getuteten instrumentalen Rhythm & Blues. Das Erscheinen von Coverversionen war nur eine Frage der Zeit.
Am wenigsten rechnete die Musikwelt 1953 aber mit einer Fassung der Harmonicats, 1944 gegründet und ab 1947 aus Jerry Murad (1918 – 1996, chromatische Lead-Mundharmonika), Al Fiore (1923 – 1996, Akkord-Mundharmonika) und Don Les (1914 – 1994, Bass-Mundharmonika) bestehend.
Die Musiker hatten sich im damals populärsten Mundharmonika-Ensemble der USA, Borrah Minnevitch's Harmonica Rascals, kennengelernt . Schon bald wurden sie zu Großverdienern in den Varietés und Nachtclubs der USA.
Die Liste ihrer Hitplatten ab 1947 ist beeindruckend und ihre Lp-Discographie weist unzählige Veröffentlichungen bis in die 70er Jahre auf.
Ab ca. 1950 firmierte man unter "Jerry Murad's Harmonicats".
Da hatte man längst begonnen, die Besetzung für Schallplattenaufnahmen zu erweitern. Für "Pachuko Hop" wurden ein Gitarrist, ein Kontrabassist, ein Baritonsaxophonist und ein äußerst dezenter Schlagzeuger ins Studio gebeten.
Ein Meisterwerk!
---
My Babe – THE GOOFERS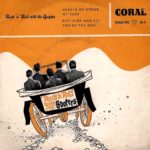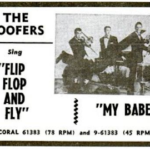 Meine Güte – The Goofers!
Wer je die alten Mitschnitte ihrer Fernsehauftritte oder ihre Einlage im Film "Bop Girl Goes Calypso" von 1957 gesehen hat, weiß, dass die Goofers ohne Zweifel eine der wildesten Showbands ihrer Zeit waren: Akrobatik am Trapez, choreographierte Tanzeinlagen, Turnübungen am Instrument – schlichte Selbstverständlichkeiten für die fünf Musiker.
Stimmt… Musik gab's ja auch noch!
Die wurde gespielt von Frank Nichols (Trompete), Jimmy Dell (Posaune), Tom Terry (Bass), Jack Holliday (Piano) und Bandleader Jimmy Vincent (Schlagzeug).
Die Fünf hatten sich um 1950 in der Big Band von Louis Prima kennengelernt und gründeten ihre Combo 1954 nach dem Ende des Prima-Orchesters auf Anregung des Managers Mannie Greenfield. Der vermittelte sie alsbald an die Plattenmarke Coral. Verblüffend ist, dass die Goofers von Coral lediglich als Sänger eingesetzt wurden.
Zwar promotete man sie offensiv als Rock'n'Roll Band, überließ das Musizieren aber lieber dem mit allen Wassern gewaschenen Studio-Kapellmeister Dick Jacobs (1918 – 1988).
Hier singen die Goofers im Rahmen einer Produktion von 1955 in dem für sie typischen Unisono-Stil eine textlich leicht bereinigte Version des Little-Walter-Klassikers "My Babe".
Nach dem Tod von Jack Holliday und dem Ausscheiden von Tom Terry führte Jimmy Vincent die Gruppe noch für eine Weile mit neuen Musikern weiter, ehe er die Band 1962 auflöste und ein interessantes Angebot annahm: Er wurde in Las Vegas der neue Drummer bei Sam Butera & The Witnesses, der langjährigen Begleitband von Louis Prima. Hier schloss sich ein Kreis.
Bis Mitte der 70er Jahre blieb Jimmy Vincent bei Sam Butera und Louis Prima.
Dann machte er zusammen mit dem Witnesses-Bassisten Rolly Dee, dem Organisten Bruce Zarka und Morgan Thomas an den Blasinstrumenten eine neue Goofers-Formation auf, die über viele Jahre das Publikum in der Spielerstadt gewohnt temperamentvoll unterhielt.
---
Gold Will Melt – THE MATYS BROTHERS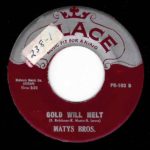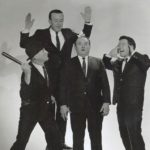 Und wieder machen wir Station in Philadelphia, der Geburtsstadt des Northern Jive, der Heimatszene von Freddie Bell, Jimmy Cavallo, Mike Pedicin und Murray Schaff. Mit Bill Haley teilten unsere Protagonisten sogar die Geburtsstadt: Chester, Pennsylvania.
Es gab vier Gebrüder Matys: John, Walt, Emil und Gene. Sie leiteten gemeinsam eine vielseitige Showband für nahezu jeden Geschmack und jede Gelegenheit. Gekonnt gespielter und gesungener Rock'n'Roll war eine ihrer leichtesten Übungen.
Schon ihr 1952er Debut "Rock Me Daddy" auf BBS Records definierte ihren Sound, einschließlich des mühelos vorgetragenen mehrstimmigen Gesangs.
1961 hielten sie der eher monetär interessierten Welt den moralischen Vortrag "Gold Will Melt". Da brauchten sie nur noch zwei Jahre bis zu ihrem größten Hit zu warten, einer humorvollen Polka-Nummer mit dem Titel "Who Stole The Keeshka?"
Auch ein Klassiker… wen auch ganz anderer Art.
---
Big Boy – THE BIG BEATS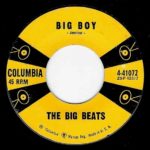 1957, als der große Trini Lopez (geb. 1937) noch nicht ganz so groß war, fungierte er als Lead-Gitarrist der Formation The Big Beats aus Dallas, Texas.
Auf eine Empfehlung von Buddy Holly hin nahm sie der Produzent Norman Petty unter seine Fittiche. Der wiederum handelte den Schallplattenvertrag der Gruppe ausgerechnet mit einem der großen Rock'n'Roll-Hasser der Musikgeschichte aus, dem Chef-Produzenten der Columbia Mitch Miller.
Für ihre Debut-Single wählte Miller "Big Boy" aus, die Cover-Version einer Nummer von Bill Doggett, geschrieben von dessen langjährigem Gitarristen Bill Jennings.
Vermutlich war Miller eher erleichtert, dass aus "Big Boy" und den Big Beats nicht so recht etwas wurde.
---
Max – AL "JAZZBO" COLLINS & The Men From Mars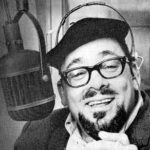 Al Collins, besser bekannt als "Jazzbo" oder gar "Jazzbeaux", lebte von 1919 bis 1997 und gilt als einer der größten und einflussreichsten Jazz-Disc-Jockeys des 20. Jahrhunderts. Tatsächlich übte er diesen Beruf bis zu seinem Tod nonstop aus. Darüberhinaus betätigte er sich als Journalist, Schriftsteller und Songautor. Manchmal, wenn ihn der Hafer richtig stach, versuchte er sich auch als Sänger. "Max", die Geschichte eines verschwundenen Marsmenschen, entstand 1956. Die Mitglieder der "Men From Mars" waren selbstverständlich höchstrangige Jazz Cats, u.a. Hal McKusick am Altsaxophon und Osie Johnson am Schlagzeug, die ihrem Lieblings-Deejay gerne einen kleinen Gefallen taten. Der Texter und Komponist von "Max" war kein Geringerer als Norman Gimbel (1927 – 2018), der später, in den 60er Jahren, die großen Bossa Nova Songs von Antonio Carlos Jobim ins Englische übertragen sollte, allem voran das allseits beliebte "Girl From Ipanema".
---