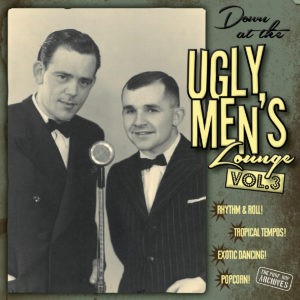 AUS DEM PROF. BOP-ARCHIV:
---

"Open The Door Richard" – BILL DOGGETT & His Combo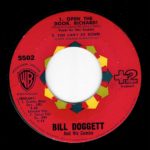 Dieser Song hat eine der längsten durchgängigen Historien im Rhythm & Blues, Jazz und Rock & Roll überhaupt aufzuweisen. Eigentlich basiert er auf einem Sketch, der schon 1918 von dem Komiker John Mason geschrieben und popularisiert worden war.
Verschiedene andere Komiker griffen den Spaß um einen Betrunkenen, der den Weg in sein Haus nicht mehr findet, auf – allen voran Dusty Fletcher, der damit auf der Bühne des Harlemer Apollo Theaters einen Sensationserfolg feierte.
Der kalifornische Saxophonist und Band-Leader Jack McVea komponierte 1946 einen Refrain zum Sketch und nahm ihn als erster mit seiner Band auf.
Ein "Richard"-Lawine brach los: Coverversionen (u.a. von Louis Jordan, Count Basie und Dusty Fletcher höchstselbst), Antwort-Platten, fremdsprachige Versionen (sogar auf Chinesisch und Armenisch) undundund….
Der Bandleader und Organist Bill Doggett (1916 – 1996), der als Pianist und Arrangeur schon seit den 30er Jahren den schwarzen Swing maßgeblich mitgeprägt hatte, in den 40ern als Pianist für Louis Jordan wirkte und in den 50er Jahren den Sound der groovy-vor-sich-hin-köchelnden Hammondorgel-Tenorsaxophon-Bands definierte ("Honky Tonk Pt.2"), reduzierte seine Fassung 1961 auf den Refrain. Die Handlung des Sketches sollte man sich wohl selbst denken, aber die herrlichen Soli und der lustvolle Chor auf der Platte brauchten keinen Witzemacher mehr, um zu verfangen.
---
"Bla Bla Bla Cha Cha Cha" – TITUS TURNER & Mort Garson Orchestra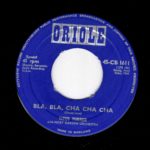 Titus Turner (1933 – 1984), war ein R&B-Altmeister, der schon mit siebzehn Jahren seine ersten Schallplatten veröffentlicht hatte und dessen Kompositionen, von anderen gesungen, enorm erfolgreich wurden. Dieses hübsche Kabinettstückchen erblickte das Licht der Welt 1961 als kaum beachtete B-Seite von "Pony Train".
Die Nummer wurde in vielen Ländern veröffentlicht, aber nur bei der in Großbritannien erschienenen Version entschloss man sich, auf ein "Bla" zu verzichten.
Oder war es gar ein Versehen? Egal – sowieso alles nur Bla-Bla!
---
"Rex The Hex" – THE KING'S JESTERS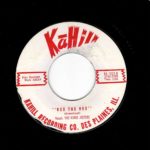 Wir erlauben uns, einen offensichtlichen Rechtschreibfehler zu korrigieren und garnieren das "Kings" des Original-Labels von 1957 mit einem Apostroph.
Es gibt vage Anzeichen, dass es sich bei den King's Jesters um die legendären Park Avenue Jesters handelt, eine Showband, die schon 1947 auf dem Schallplattenmarkt auffällig wurde und sich im Laufe der folgenden Jahre auf verschiedenen Labels und an verschiedenen Stilen zwischen Ink-Spots-Imitation, italo-amerikanischem Humor und wildem R&B-Gehonke versucht hat. "Rex The Hex" dürfte die letzte Veröffentlichung der Band gewesen sein. Wenn unser Verdacht stimmt, gehörten der Combo zur Zeit dieser Aufnahmesession Joe Rinaldi (alias Joey Reynolds, Klarinette und Saxophon) und Tony Stumpo (Piano) an. Und der Rest der Besetzung? Gemach…., wir wissen ja nicht einmal sicher, ob dies die guten alten Park Avenue Jesters waren…
---
"Rockin' The Keys" – JOSÉ MELIS & His Piano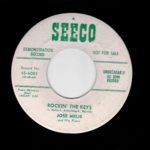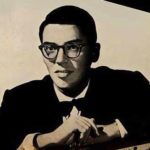 Der auf Kuba geborene José Melis Guiu (1920 – 2005) studierte Musik in Paris, ging bei Kriegsausbruch in die USA und leitete Bands bei der Truppenbetreuung, wo er den exzentrischen Rundfunkmoderator Jack Paar kennenlernte. Als Paar zum Fernsehen wechselte und die heute noch existierende "Tonight Show" übernahm, wurde José Melis sein Bandleader. Beide verließen die "Tonight Show" 1962. Melis galt da längst als etablierter Pianist, arbeitete in den folgenden Jahren und Jahrzehnten mit den größten Stars und gehörte über viele Jahre zum amerikanischen Show-Olymp.
"Rockin' The Keys" erschien 1958 auf dem Seeco-Label, das hauptsächlich für seine Latin-Veröffentlichungen bekannt war.
---
"Lookout" – SAVINA & The Love Orchestra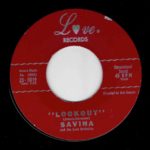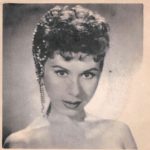 Was das Love-Label aus Chicago den meisten anderen unabhängigen kleinen Schallplattenfirmen voraus hatte, war die Tatsache, dass von dieser Marke 1958 ein echter Welthit ausgegangen war: "Topsy Pt. 2" von Cozy Cole, eine Instrumentalnummer des großen Jazz-Schlagzeugers. Und es war auch Cozy Coles Band, die das Rückgrat des "Love Orchestra" bildete, einer flexiblen Studioband unter der jeweiligen Leitung von Hal Dennis (Eigentümer des Labels) oder Alan Hartwell (Musikverleger und Ehemann der hier vorgestellten Sängerin).
Savina Cattiva brachte ihre Platten bis 1962 gelegentlich auch unter ihrem vollen Geburtsnamen Savina Cattiva heraus. Als Model und Schauspielerin nannte sie sich Severia Schiada. 1963 wechselte sie die Seiten und betätigte sich unter ihrem bürgerlichen Namen Savina Hartwell als Autorin und Produzentin, u.a. für Kathie King.
---
"Minor Mad" – ROBY DAVIS & Son Orchestra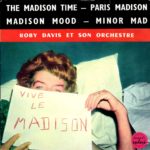 Roby Davis war ein französischer Saxophonist, der seit Beginn der 50er Jahre immer wieder mit flotten Tanzmusikproduktionen der jeweils aktuellsten Machart aufwartete. Zudem war der Ehemann von Andrée Davis-Boyer (1918 – 2012), einer Musik-Managerin und Music-Hall-Prinzipalin, deren berühmteste Unternehmung die Fima "Scopitone" war, eine Marke für Video-Jukeboxes, die in der ersten Hälfte der 60er Jahre den französischen Musikmarkt mitbestimmte. Daher rührte auch ihr lebenslang mit Stolz geführter Spitzname "Mamy Scopitone". Roby und Andrée waren die Eltern der populären Sängerin Florence Davis.
Roby Davis absolvierte seine Aufnahmesessions mit den unterschiedlichst zusammengestellten Begleitcombos. Auf der 1962 erschienenen Ep "Vive le Madison" dominiert das Wurlitzer-Elektroklavier und als einer der Komponisten der Originalnummern wird "Johnny Ward" angegeben. Zu dieser Zeit gastierte das international besetzte Hazy Osterwald Sextett regelmäßig in Paris. Sein populärer belgischer Schlagzeuger war der Belgier John Ward. Lauschen wir hier gar der anonym aufspielenden internationalen Top-Showband von Hazy Osterwald?
Wenn dem so sein sollte, hören wir folgende Besetzung: Curt Prina (Wurlitzer-Piano), Dennis Armitage (Tenorsaxophon), Werner Dies (Gitarre), Sunny Lang (Bass) und John Ward (Drums) und natürlich Roby Davis selbst am ersten Tenorsaxophon.
Hazy Osterwald blieb nur die Aufgabe, zwischendurch Zigaretten zu holen.
---
"All Or Nothing At All" – PAGE CAVANAUGH Trio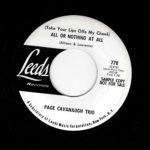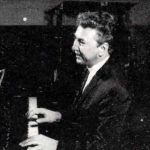 Arthur Altman und Jack Lawrence schrieben "All or Nothing At All" im Jahre 1939. Es wurde einer der größten Hits des Orchesters von Harry James mit seinem jungen Sänger Frank Sinatra. Heute ist es ein gern gesungenes Lied aus dem American Songbook.
Page Cavanaugh (1922 – 2008) gründete sein Trio nach dem Vorbild des Nat King Cole Trios unmittelbar nach Kriegsende und hatte mit ihm einige Hits und Filmauftritte. Seine beiden Mitstreiter damals waren Al Viola (Gitarre) und Lloyd Pratt (Bass).
Das besondere Stilmerkmal der drei Musiker war ihr softer, leicht atemlos vorgetragener Unisono-Gesang.
1958, als Page Cavanaughs Version von "All Or Nothing At All" herauskam, spielte das Trio längst nicht mehr in seiner Originalbesetzung zusammen. Der spezielle Gesangssound aber war erhalten geblieben. Instrumental verstärkte man sich für diese Aufnahme noch um einen Saxophonisten und einen Drummer. Rock & Roll halt….
---
"Sister Jenny" – THE FOUR HUES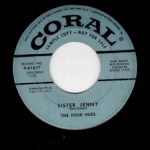 Als diese Aufnahme entstand, 1955, war George Cates schon seit einiger Zeit Chefarrangeur des Lawrence Welk Orchesters, das sich gerade anschickte, mit seiner wöchentlichen Fernsehshow edelste Musik von Swing bis Polka und von Western Swing bis zu irischen Hymnen in die amerikanischen Wohnzimmer zu bringen. Über viele Jahrzehnte liebten die Zuschauer ihren Lawrence mit dem charmanten deutschen Akzent (er stammte aus einer deutschen Siedlerfamilie und wuchs in einer rein deutschsprachigen Gemeinde in North Dakota auf; die englische Sprache lernte er erst notdürftig als junger Erwachsener).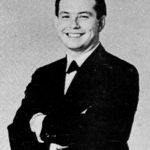 Wann immer George Cates für seine Produktionen außerhalb der "Lawrence Welk Champagne Music Makers" Musiker benötigte, griff er so gut wie immer auf seine Freunde aus der Welk Band zurück. So wohl auch bei der vorliegenden Aufnahme einer leicht angegospelten Rockabilly-Nummer, deren orchestraler Sound das Großstadtpublikum mit dem jungen Rock & Roll versöhnen sollte. Im selben Jahr war der neunzehnjährige Buddy Merrill als Gitarrist in das Orchester eingetreten. Kein Musikstil barg für ihn irgendwelche Geheimnisse, aber gerade beim Rock & Roll war er nahezu unschlagbar. Das Solo bei dieser Aufnahme ist ganz und gar seins.
Das deutlich zu vernehmende Banjo hat wahrscheinlich Lawrence Welk selbst gespielt.
Zwar war das Akkordeon sein Hauptinstrument, dennoch aber hing er mit nostalgischer Zuneigung stets an seinem Zweitinstrument, dem Tenorbanjo, wie er gelegentlich in seiner TV Show unter Beweis stellte.
Über die Four Hues ist in diesem Camp nichts bekannt.
---
"Guitar Rock" – IRVING ASHBY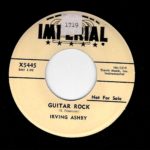 Der Gitarrist Irving Ashby (1920 – 1987) begann seine Karriere 1940 in der Big Band von Lionel Hampton. Als Begleiter von Ada Brown Fats Waller ist er in dem 1943er Film "Stormy Weather" zu sehen. Nach einigen ruhelosen Jahren ersetzte er 1947 den legendären Oscar Moore im Nat King Cole Trio und wurde so zum Dreh- und Angelpunkt der zweiten klassischen Besetzung dieser Gruppe mit Joe Comfort (Bass), Cole selbst (Piano) und gelegentlich Jack Costanzo (Bongos).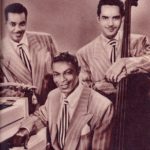 Nach seinem Ausstieg aus der Gruppe wurde Irving Ashby einer der meistgebuchten Studiogitarristen Hollywoods. Filmmusik, Rhythm & Blues, Rock & Roll, Country & Western, Pop, Jazz, Psychedelic – Irving Ashby wusste alles und konnte alles.
Gerade in den 50er und frühen 60er Jahren arbeiteten er und Joe Comfort oft im Umfeld des Bandleaders, Pianisten und Organisten Ernie Freeman. Als Teil der Ernie Freeman Combo kann man beide im Begleitensemble der Platters im Film "Rock Around The Clock" sehen.
Ernie Freeman schrieb und produzierte den "Guitar Rock" 1957 für seinen verlässlichen und langjährigen Mitspieler.
---
"Walking Together" – REED HARPER & The Notes with Sid Bass Orchestra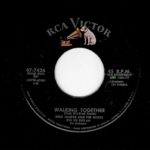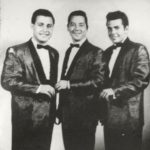 Reed Harper & The Notes, auch bekannt als Reed Harper & The Three Notes oder schlicht als Reed Harper Trio, waren drei Sänger aus Brooklyn, die sich zwischen 1955 und 1962 in allerlei verschiedenen Pop- und Rock & Roll-Stilen versuchten. "Walking Together", erschienen 1958, ist eine der kraftvollsten Hervorbringungen von Reed Harper, Paul Cardile und Bobby Feola.
Den Song schrieben der R&B-Top-Komponist und -Produzent Clyde Otis und dessen langjähriger Lieblingsschützling Brook Benton gemeinsam.
---
"Nite Train To Wabash" – Billy Wayne Combo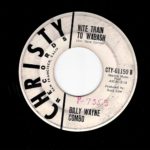 Selbst diejenigen, die sich mit der Geschichte der Hillbilly-Musik nur peripher vertraut gemacht haben, kennen den Roy-Acuff-Klassiker "Wabash Cannonball".
Die Band von Billy Wayne machte daraus 1961 den "Nite Train To Wabash" und auch diese Titeländerung ist als eine Reverenz an Roy Acuff, den King of Country Music, zu verstehen, war doch "Night Train To Memphis" ein anderer seiner vielen Hits.
Vom Sound her orientieren sich Billy Wayne und seine Jungs am damals gerade überaus populären Stil der Bill Black Combo. Dieser spezielle, trockene und entspannte Groove wird uns im Laufe dieser Serie sicherlich noch gelegentlich über den Weg laufen.
---
"Girl With Swingin' Derriere" – RUTH WALLIS & Jimmy Carroll Band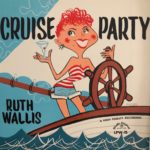 Ruth Wallis, die Königin des erotischen Liedguts, haben wir Ihnen bei unseren Erläuterungen zu Vol. 1 schon ausführlich vorgestellt. 1957 beteiligte sich die großartige Sängerin und Songschreiberin am allseits grassierenden Calypso Boom und veröffentlichte ein komplettes Album in diesem musikalischen Idiom: "Cruise Party".
Das Lied von dem Mädchen mit dem schaukelnden Hinterteil und dem großen Korb auf dem Kopf ("Like the basket was stacked, so was she") ist der Höhepunkt dieser Ruth-Wallis-Langspielplatte.
Wie fast immer auf ihren Alben wurde sie auch hier vom Bandleader Jimmy Carroll kompetent begleitet.
---
"Rock'n'Roll Cha Cha Cha" – THE SHEPHERD SISTERS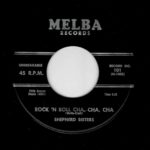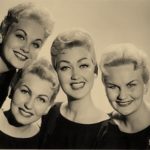 Sie kamen zu viert aus Middletown/Ohio: Martha, Mary Lou, Gayle und Judy Shepherd, und sie tauchten mit ihrem fröhlichen und unverbildeten Tralala zu einer Zeit auf der Musikszene auf, als die vorherrschende Definition von Rock & Roll "irgendwie laut, irgendwie jung" war – und das waren sie beides.
Und erfolgreich waren sie auch. Bis 1963 gab es gelegentliche Hits und ihre Konzert-, Theater- und Nachtclub-Auftritte führten sie um die ganze Welt.
Zur Zeit des "Rock'n'Roll Cha Cha Cha" (1956) bildeten sie zusammen mit den Bonnie Sisters (siehe Vol.1) das Kontingent görenhafter Gesangsgruppen in den legendären Alan Freed Shows.
---
"Abdullah's Pets" – HENRI DE PARI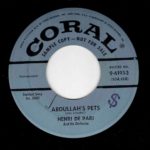 Der Name John Schachtel evoziert keine Showbusiness-Träume. Ganz anders "Henri de Pari", auch wenn diese Schreibweise des Namens haarscharf an der französischen Hauptstadt vorbeizielt.
John Schachtel war ein amerikanischer Sopransaxophonist, der mit einer kleinen, ungewöhnlich besetzten Combo (sein "Orchester" bestand neben ihm aus Akkordeon, Bass, Schlagzeug, Percussion und zwei Gitarren) einen herrlich orientalisch anmutenden Sound zwischen Rock'n'Roll, Tango und Exotica fabrizierte. Unter seinem bürgerlichen Namen komponierte Schachtel u.a. für Kollegen wie Sam "The Man" Taylor.
"Abdullah's Pets" erschien 1958.